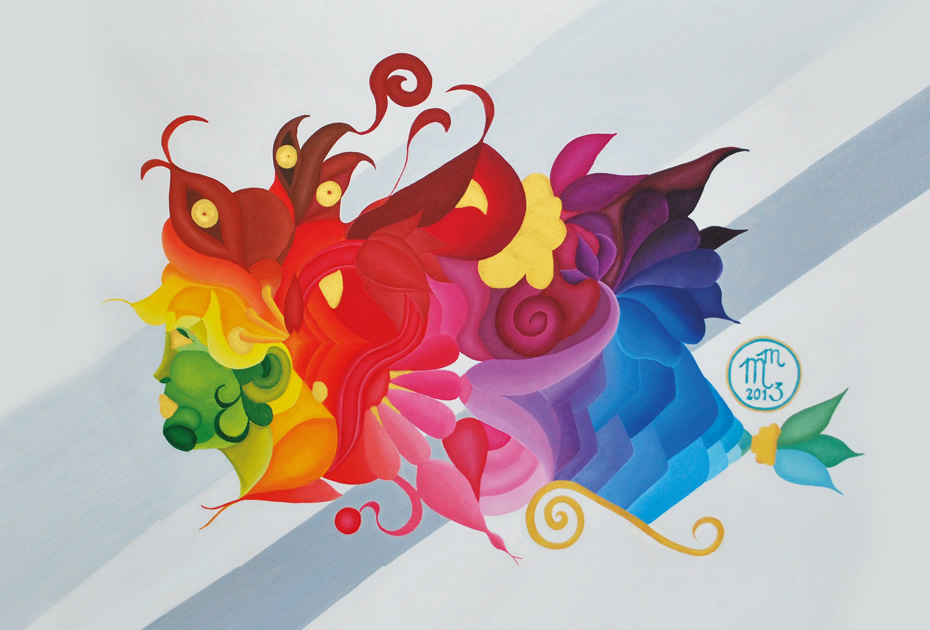 The Construction of Color
Hypothesis for the composition of the "color of colors"
Martina Morin's color assumes the happy dimension of a tonal syntax and a "musical" system that chases the global tone of a complex expression.
Her pictorial form then takes place in the kaleidoscopic aggregation of the "game" mediated by the gaps and the flat sheets, which – in the combination of the single tones – propose a draft of variable emphases and consequents; such methods may evolve in the endless field of logical contacts and innovative intuitions, in fatal paths leading to the shiftyharmony of Beauty.
In this system we relive the suggestions of the courtly elegance of the international Gothic world as well as we see solutions of fragmentation which can be assimilated to the lessons of the Flemish school or to the trends of the first mannerism of our past civilization. In such a case the enamels of the primary colours and the gold foil are coupled with the essential forms of simple layers and of bright "scales" that build the phantasmagoric figu- rative mosaic, here assimilated in its intimate reason and in its evident expressive meaning.
In this varied and lush world, chased and represented by this young artist, a student of the Academy of Fine Arts of Verona, emerges then a possible new springtime for Decorating of which we recognize the logic and the throbbing intuition precisely within this new and magical law of the figuration.
Riccardo Cecchini, Verona, April 13th 2014