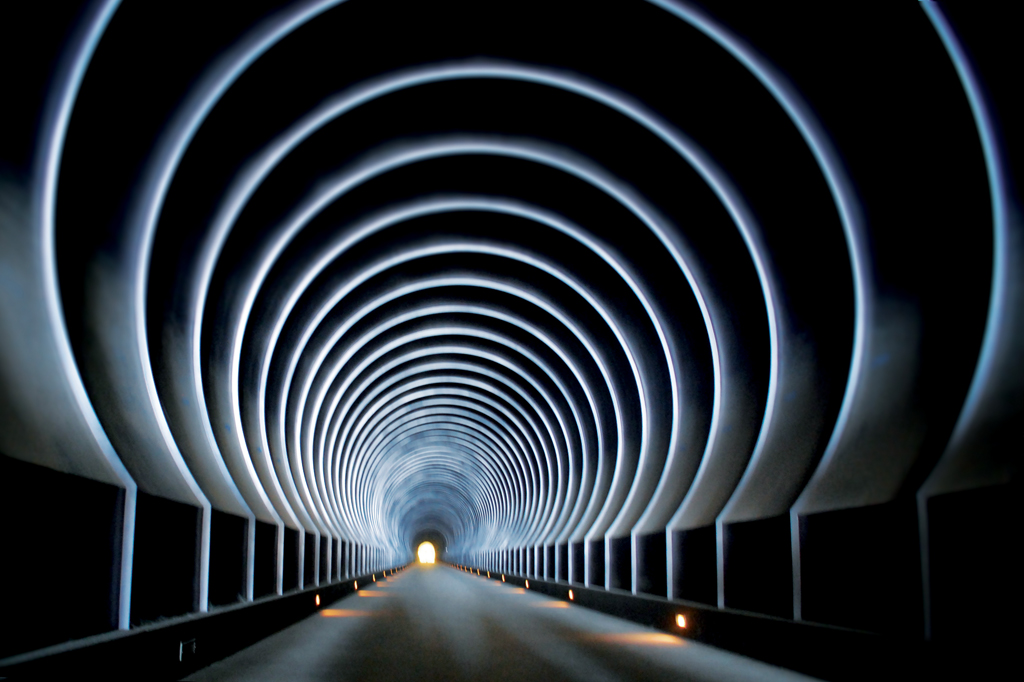 The experience of the Form

Unknown planet of form and visual perception.
"Island of Arizona" by James Turrell
The Roden Crater project is conceived and realized by Californian artist James Turrell and it is an extraordinary experience. An extinct volcanic crater becomes an immense work of art, a real "monument of perception" filled with great charm and rare suggestion.
This is a unique place that combines visionary architecture, engineering, astronomy, physics, geology, anthropology and archeology together with light, space and time.
This crater of an extinct volcano located in Painted Desert in Arizona has been chosen by the artist in 1974 for its particular spatial potential and for its climatic features. Here Turrell has created a series of underground rooms connected by tunnels and equipped to receive the light of the desert during days and nights. This layout produces a particular reflection already tested "in vitro" by the artist, in his famous light installations.
The project has taken shape over time and it is still being developed through new and ongoing art works. These installations are all underground and they're intended to enhance the phenomenon of light, the observation of the constellations and the perception of the sounds of the universe.
The purpose of the art work is to encourage the guests to use all their senses. Visitors become receptive to any light, the Sun, the Moon or the star, but also impressionable to every sound, coming either from the surrounding land or from the immense space, which entirely surrounds us.

The experience of the form
"I make spaces that apprehend light for
our perception, and in some ways
gather it, or seem to hold it…
My work is more about your seeing
than it is about my seeing,
although it is a product of my seeing.
My work has no object, no image
and no focus. With no object,
no image and no focus,
what are you looking at?
You are looking at you looking.
What is important to me is to create
an experience of worldless thought"
James Turrell
October 2010. Arizona. USA.
Earth that smells of earth, dry and hot, made of horizons that disorient, a series of rhetorical images of our mind.
An exception. A world-famous place that has a specific distinction.
An extremely mimetic place, but so perceptible.
Painted Desert.
This place houses what appears to be the largest land-formed work of the world,
set in the inner core of an extinct volcanic cone, known as the Roden Crater.
A process that has been lasting for more than 30 years. A fo
reman artist and fellow engineers and astronomers.
In this place people become actors and not mere spectators.Light and space. Suspension, silence and meditation.
"Sun alpha eye", "eye of the crater", "east portal" and "alpha tunnel" are
the rooms that form the cognitive and sensorial path inside
this crater. Precise astronomical observatories, as well as art spaces and huge architectures.
Experiencing these spaces, every visual, acoustic and tactile sensation gets contaminated.
Chameleon-like and magnetic environments, colors that change shade according to the strike
of seconds, minutes and hours.
A temple of architecture based on archetypal rules in the service of art.
Penetrate the earth through claustrophobic tunnel and then grow towards the sky in big spaces with dazzling light.
Places where the nature shows its force, air vortices.
Nature makes the rules and architecture enforces them.
darkness – light.
silence – vibrations.
hot – cold.
oppression – breath.
agitation – wonder.
The journey becomes an experience and people feel part of a game between man, nature and
artifice.
The experience of the form is the willingness to participate to the FORM itself.
Participate means exchanging and interpreting the logical connections and rhythmic sequences.
In this sense, the form becomes a dialogue.
There is an active action between multiple actors that encode a given language and
interpret it.
Each of us communicates through signs, through a sequence of shapes, rhythms, gestures,
colors, just like architecture.
Architecture is an attitude and a necessity that shows an idea and it is offered to others.
"My work is more about your seeing than it is about my seeing, although it is a product of my
seeing."
Guido Vismara